Through fresh snow.
Snowshoeing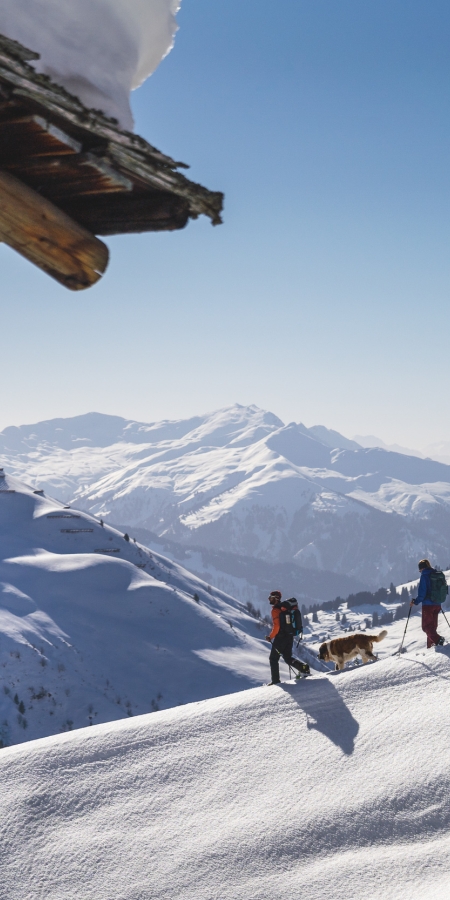 While in the front part of the Praettigau the landscape is rather gentle and hilly and therefore also offers ideal terrain for snowshoe novices, in the middle and rear Praettigau you will also find areas with predominantly alpine routes for more ambitious snowshoe walkers. In addition to signalled tours, you can also organise snowshoe experiences with local guides. Let yourself be whisked away to the winter magic land and discover our beautiful winters on foot.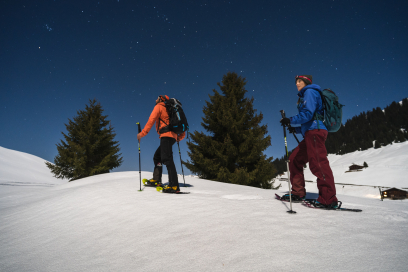 Safety first.
Guided tours and courses
Let us show you the most beautiful corners of the Prättigau.
If you would like to experience the snow-covered landscape with an expert guide, an attractive range of guided tours awaits you.
Important.
Respecting Nature
Go on a voyage of discovery in the fascinating mountain world and collect wonderful winter experiences. And don't forget! On our tours we are visiting the habitat of wild animals and plants. In order for this to continue, respect and consideration are required. Thank you for respecting nature.
Rules for more nature
Observe protected areas - Here you will find the current game protection areas and game rest zones in Graubünden. The areas to be observed are mentioned in our tours.
Avoid forest edges and snow-free areas - this is where wild animals prefer to stay.
Evade or wait - this way the wild animals can move away in peace. Don't forget to enjoy the view.
Use existing routes and paths - frequently used routes are known to wildlife.
Keep dogs on a leash (especially in the forest) - wild animals flee from free-roaming dogs.
Avoid twilight times where possible - they like to feed at these times.
More information: www.respektiere-deine-grenzen.ch​​​​​​​