Filigree Handicraft.
Kränzli und Tschäppel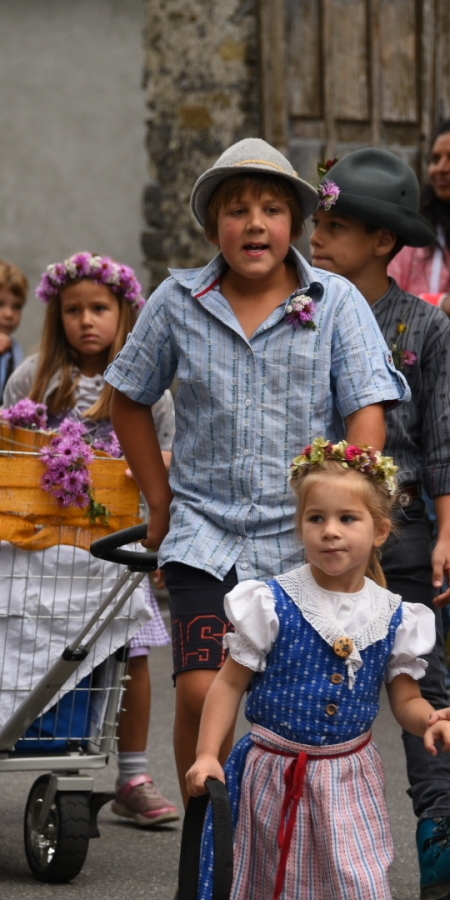 On Ascension Day, mothers and grandmothers collect forget-me-nots, daisies, buttercups and other spring flowers from meadows and gardens. In delicate handicraft, they are turned into flower wreaths for daughters and granddaughters.
They tie little bouquets of "än Tschäppel" or "ä Meija" for the boys' lapels. They then attend the service together in their Sunday best, a traditional costume or a frock. The children of Luzein and Pany are even driven to church by horse and cart.
Ascension Day is spent differently from village to village. For example, there is a parade before or after the service in Schiers, Fanas or Jenaz. In the past, people often met up with a companion for a "Uffahrtsgaffi", which also included cake, plaited pastries and crème and usually took place to the exclusion of the "envious" boys. As was the subsequent dance in one of the village inns.
"Uffahrtsgaffi" still exist today in Saas and Fideris. While the latter is merciless with the male sex, in Saas the boys are allowed to "iibrächä". A window at the house in question is "possibly" not closed and the boys get into the house and to the table richly laid with sweets.
The why and where of this custom is difficult to ascertain. The most likely explanation is that this custom on Ascension Day was originally a spring festival, a fertility festival, and was grafted onto the church occasion.
Source: Excerpt from a text by Marietta Kobald luaga.ch