Comfortable and diverse.
Transport Options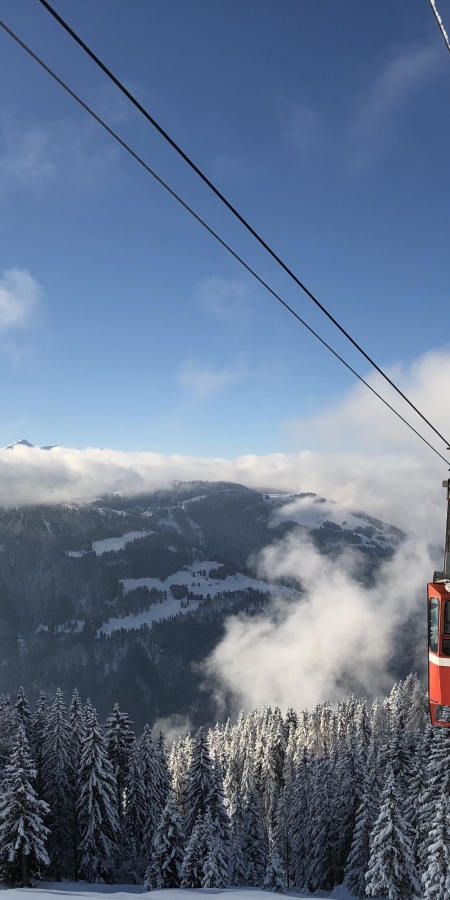 There are numerous transport options in the Praettigau: The Fanas cable car takes sun-seekers to Maiensäss Eggli all year round, and in winter Grüsch-Danusa is the first ski area in Graubünden. Shuttles connect Fideris village with the Heubergen and the Rhaetian Railway runs through the valley every hour. Various PostBus lines also serve mountain villages such as Valzeina, Seewis, Fanas, Schuders, Fajauna, Stels, Furna, Luzein, Pany, St. Antönien, Fideris and Conters.
In St. Antönien, the alpine bus runs during the summer season to Partnun, Bärgli and Gafiertal. The Fideriser Heuberge are accessible by bus from Küblis or Fideris. The cable car Fanas - Eggli runs all year round. Various more remote starting and ending points can also be reached by minibuses and cabs. For several mountain roads, driving permits are available from the respective communities. Several providers offer scooters for descents, e.g. from the Schesaplanahütte, Partnun or the Fideriser Heubergen.
Cable cars
In the perimeter of Prättigau Tourism, the Fanas-Eggli cable car offers a year-round transport option. Grüsch-Danusa takes guests to Berghaus Schwänzelegg in July and August and in winter to the slopes. The Älplibahn Malans and the Madrisa, Gotschna and Parsenn mountain railroads (Davos Klosters destination) are also of interest for hikes in the Praettigau.
Heuberge AG operates its own shuttle bus service from Küblis or Fideris to the Heuberge. For timetable and reservations see heuberge.ch.
PostAuto
PostAuto Graubünden provides connections from the Rhaetian Railway to the mountain villages and side valleys. Junctions are the stations Landquart (to Seewis), Schiers (to Fanas, Fajauna/Stels, Schuders, Furna) and Küblis (to Conters, Luzein/Pany/St. Antönien).
During the summer season there are numerous post buses with bicycle racks at the rear of the vehicles. However, there is no guarantee that you will be taken along. Details on bike transport and contact details of PostAuto AG for any reservations are listed in the relevant timetable field.
On the following routes, PostAutos are equipped with rear racks (space for four or five bikes, depending on the route):
| Number | Route |
| --- | --- |
| 90.201 | Grüsch–Seewis |
| 90.202 | Grüsch–Valzeina |
| 90.212 | Schiers–Stels–Mottis |
| 90.214 | Schiers–Pany |
| 90.220 | Schiers–Pragg–Furna |
| 90.222 | Küblis–Pany–St. Antönien |
The Bike Day Card and the Bike Pass (GA) of SBB and many other transport companies are valid on the entire PostBus network. Passengers in possession of such a pass therefore do not need to purchase any additional tickets for taking their bikes on Postbuses.
Route tickets for bicycles can be obtained using the SBB Mobile app, via SBB.ch, from ticket machines, at all public transport sales points or by calling the SBB Contact Center on 0848 44 66 88 (CHF 0.08/min.). You can obtain the Velo Day Pass online at SBB.ch, in the SBB Mobile app, at ticket machines or at any staffed public transport sales point. You can obtain the Velo-Pass online at SBB.ch or at numerous manned public transport sales points. More at sbb.ch/velo
More information / timetable
The Rhaetian Railway - the largest Alpine railroad in Switzerland - has been running through Prättigau for more than 100 years. The PostBus routes at the Schiers and Küblis junctions are coordinated with the RhB timetable.
Loading bikes yourself is possible on most trains, as long as there is enough space. For short distances, it is best to buy a one-way ticket. For longer train journeys, daily bike tickets are available.
Specials
Children with Junior Card and children under six years old take their children's bike or slipstream bike for free, provided they are accompanied by their parents. The parents are in possession of the corresponding Velo tickets. The same provisions apply mutatis mutandis to the Grandchild Card and the STS Family Card.
More information / timetables