The sledge maker.
Peter Egli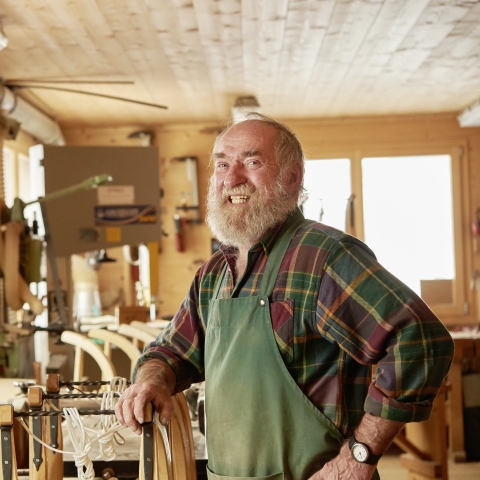 Juhui, it has snowed! Young and old can now let off steam again in our fresh mountain air and in the glittering white, on one or two boards. Or perhaps rather on two runners, a toboggan or "Gögel", as we Prättigauer say? We have prepared paths. With 12 kilometers, the toboggan run of the Fideriser Heuberge is one of the longest in Switzerland. But also the toboggan run from the Madrisa mountain station to Saas is not to be sneezed at with 8.5 kilometers, or would you prefer a shorter run of 1.5 kilometers but several times? That would be the toboggan run on Danusa, from the mountain station to the valley station. The necessary vehicle for it? No problem either. In Conters lives a farmer who is also a toboggan maker. His name is Peter Egli and he still makes really sturdy, high-quality sleds, with a lot of love for wood and craftsmanship, unique pieces.
Text und photo: Marietta Kobald, luaga.ch
Conters is small. The community has just 235 inhabitants. Small also means that everyone knows everyone, and so a short time later you are standing in the upper part of the village, on the edge of the Parsenn ski slope, in front of a new knitting house. The carved name on a wooden board of a door shows that you have not missed your destination: Peter Egli-Walli, Schlittenbau. At the knock, the door opens and there he stands in person, wearing a green work apron and laughing, "Aha, found it. Come in."  It is cozy and warm here in his workshop.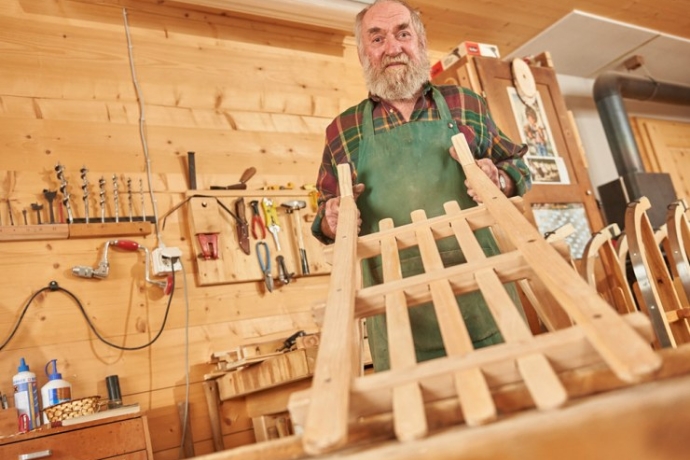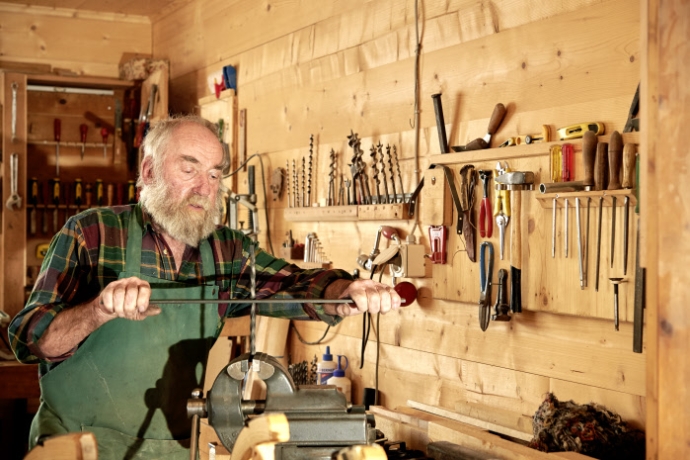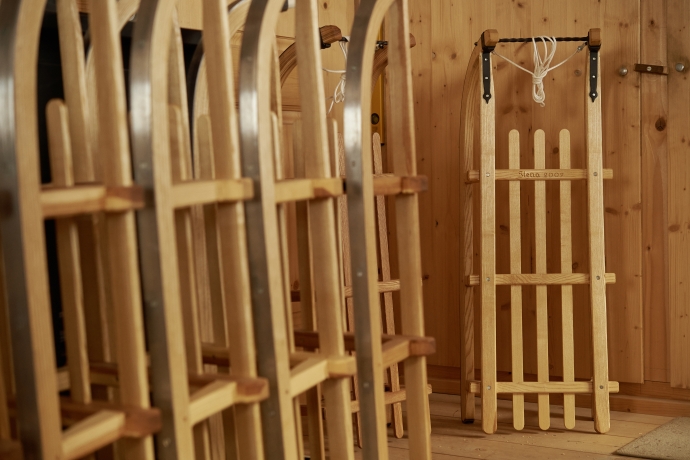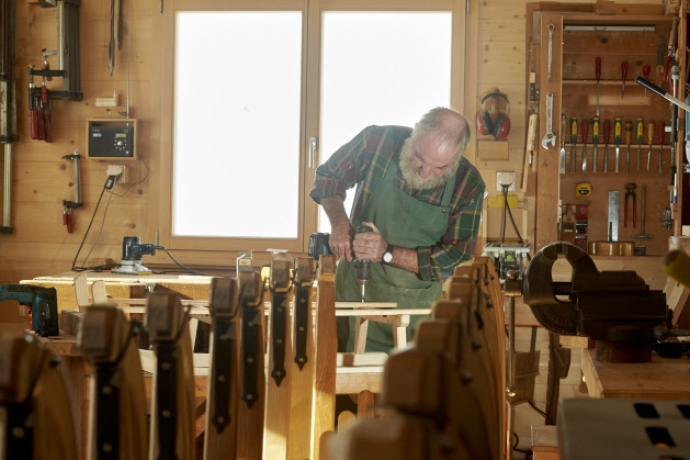 Show all 5 images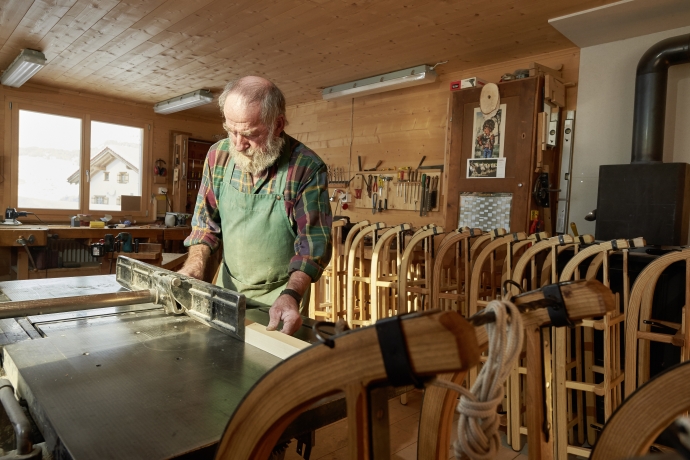 It is perfectly set up, every thing in its place so that the many steps for a sled really only require one step. Peter also works almost without a tape measure. For every job that requires measuring, he uses a stencil, homemade and elaborate, of course. He has even made a "Gögelbock", a table on which the sleds receive their iron runners or other fastening work is carried out. Peter's sleds are made of local ash, the wood best suited for the heavy use to which such a vehicle is subjected. It is hard yet resilient and can withstand wet and cold without damage. Outside the workshop, protected by the canopy, several stacks of logs sawed into blocks dry for at least two years before Peter stores them in the dry.
The 70-year-old (born in 1946) currently has ten sleds in the works, all of which are numbered consecutively. The youngest, unfinished model bears the number 710. Peter needs countless work steps before such a "Gögel" is ready to run. The block boards are milled into slats of various thicknesses, planed and "ufz Mäss abglengt". The expert Peter pays attention to the grain and color and sorts the slats accordingly. He no longer boils the wooden runners in the "Wäschhafä" to be able to bend them as he did with the first model. "I get them from a professional, "diä beügänd eim alls waat witt," explains the sled builder. Other work steps include milling tenons for the legs, mortising and drilling holes, and joining all 16 individual wooden parts together. Peter speaks of legs and "dä Pfülf," of braces and rods, of runners, tenons and "Bissä," while he drives screws into the braces with his hands, which are calloused from the hard work. He doesn't need glue, everything is connected with tenons, wedges and a few screws.
How the farmer turned into a sledge maker
He used to be just a farmer. And before he became a farmer, he had been assigned another task. Born and raised in Küblis, the son of Sepp and Stini Egli-Hansemann, owners of the Egli department store, Peter should have worked in his parents' business. He should have, because at the age of 16, after two months working in the magazine, it was over. "Duä bini usgäzogä, in dä Maiäsäss in d Schwendi," says Peter looking back with a grin. This Maiensäss was part of his grandparents' farm in Conters. Even as a young boy, Peter stayed with his grandparents Hansemann at all times, helping out on the farm at weekends and during vacations. "I always wanted to become a farmer". His wish was not denied, and after learning the farming trade at Plantahof, he lived and worked together with "däm Nani und däm Bäsi Gretli" on the farm in Conters. At the age of 23 he married Margrit Walli from Conters. They had no children, it was not meant to be. But both of them were farmers with heart and soul, for 43 years with up to 17 large livestock units. In addition, hens, the brown "diä sind nid so nervös wiä di wiissä", and always two pigs for their own needs, homemade sausages and ham. Today he still takes care of a few sheep.
"Wasst sälbär machscht ischt zallt", is his motto. He also stuck to this when he built his first sled himself almost 40 years ago and used it to take part in the traditional Conters sled race. This first model has remained the same to this day. However, Peter has only been building sleds regularly since 1994. Gradually, people from the village and the surrounding communities came with the request for a sled made by Peter Egli.
Peter also makes the iron parts, the runners, rods, clamps, clasping irons and reinforcing bows himself from six-meter-long iron rods, cutting, forging, sanding, bending and drilling until everything fits. One tiny detail only, but an important one: Peter bends the half-rings to which the pull cord is attached from 120-gauge nails. Last but not least, each sled is given a protective coat of varnish and the desired name of its future owner is carved into the hard ash wood. Such a noble vehicle has its price: A sled of 110 cm length costs 450 francs. Note, however, that if the sled does not behave as desired in curves or on straight stretches, Peter the sled builder will make corrections. Service included!
Peter's sleds are not available in any sports store. Anyone wishing to order one must contact him.
Tel. 081 332 36 32
Small Prättigau sledge maker ABC
| | |
| --- | --- |
| Gögel | = Sledge |
| Aller Gattig Lüüt | = Different people |
| Ufz Mäss abglengt | = Cut to length dimension |
| Wäschhafä | = large kettle in which the dirty laundry was boiled |
| Diä beugänd eim alls waat witt | = They bend you anything you want |
| Pfülf | = Pillow, here carrying yokes |
| Bissä | = Wedge |
| Duä bini usgäzogä | = There/Then I moved out |
| Nani und Bäsi Gretli | = Grandmother and Aunt Gretli (short form of Margreth) |
| Diä sind nid so nervös wiä di wiissä | = they are not as nervous as the white ones |
| Wasst sälbär machscht ischt zallt | = what you do yourself is paid for |
Peter Egli's sled is most similar in design to the Arosa or Grindelwald sleds. This means that the seat slats are pushed into the carrying yokes. Because the seat is recessed in this way, there is less danger of slipping off the sled than on the Davos sled. In the case of the Davos model, the producers have failed to protect the brand name. That is why today about half of the sleds sold in Switzerland are made in Eastern Europe. The Bergün sled is essentially the same as the Davos one, but has a kind of round, wooden bumper at the front. The Arosa sledge has not been manufactured for 15 years. It is manufactured in a slightly different form by the Kavi carpenter's workshop in Peist. The Arosa sledge, by the way, developed from the so-called Allemann sledge of the Kloster Wagner Peter Allemann. The Allemann sledge, for its part, was modeled on the local hay and transport sledge, simply in a smaller version. The Caprez sledge, which is produced in small numbers and is available at the Caprez sports store in Küblis, also corresponds to the Allemann sledge.